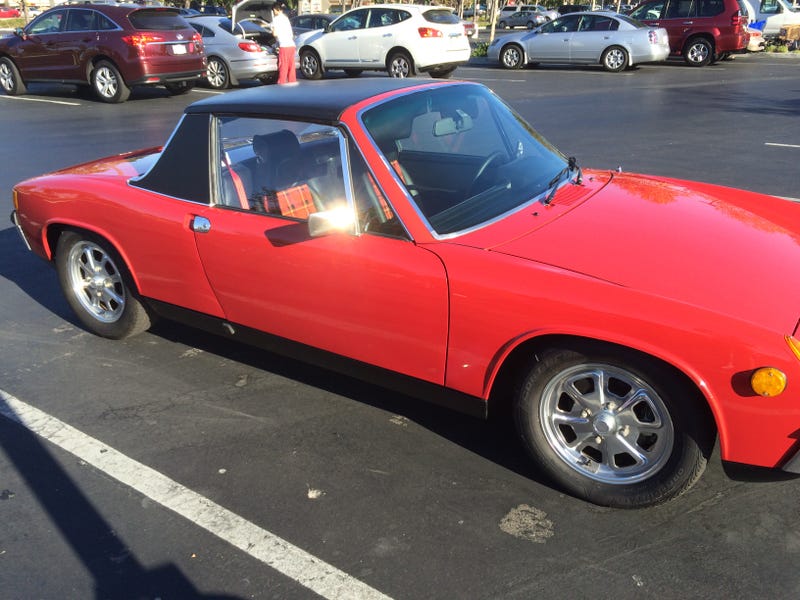 Finally, FINALLY, I'm back home from my summer of all work and little play and am reunited with many of the joys of home. Not the least of which is my lovely red 914, which you may have heard about by now.
While I was away, the car was in the shop getting a few important upgrades. The biggest upgrade was to get the car to start again! So it got a pointless ignition. It's been helpful, but will probably need a new starter as well as it's been suffering from some pretty severe heat soak on hot days. Luckily, I've been able to bump start it without a problem.
The other two most important upgrades were the turbo tie rods. Essentially, the old tie rods were designed to be flexible. Over time, that turned into sloppiness. On the 911 turbos of the time, the tie rods were much stiffer and more solid. So you could change them out and be good to go. Much more direct and tighter steering feel.
The second upgrade was a new Tangerine Evo IV silencer (muffler). The old Bursch was raspy, and kinda cheap sounding. Not to mention, it is prone to oxidization to the point of failure. The Evo is stainless and provides a much throatier sound. It flows more freely, so there is a noticeable boost in top en power. And more power when you're pushing 100hp on a good day, is a very good thing.
There were several other pieces of work done. For a breakdown, see the image below and click the little while "i" markers for information. Or just click here if they don't work (thanks, Kinja!).
For those curious about the new muffler, I created an install how-to. On the last photo (seen below), there's a video of a quick rev(click the photo, and then the little play button on the image OR just click the play button on the image below) .